A Family Friendly Fishing Charter
For a fishing adventure in the Sarasota area you won't soon forget – book a charter with your Fishing Guide Captain Tony Blizzard.
Sarasota Bay Fishing Charters is a family friendly fishing charter. We offer salt water light-tackle sports-fishing for Sarasota Florida, we also fish Longboat Key, Siesta Key, Lido Key, and Anna Maria Island.
The Sarasota area offers some of the best light-tackle sport fishing on the west coast of Florida. Among the fish we can encounter are spotted seatrout, redfish, flounder, snapper, sheepshead, pompano, Spanish mackerel and many more.
In addition, The close reefs in the Gulf of Mexico offer many more fish including grouper, snapper, sharks, cobia, permit, porgys, sea bass, and key west grunts.
Spend the trip on a top of the line charter fishing platform.
My 23' center console Panga Marquesas is one of the most fishable bay and coastal guide boats in the Sarasota area that can fish all of the skinny water and back water on Sarasota bay plus the coastal offshore waters in the Gulf of Mexico. You can mix your fishing up with a little inshore and offshore in the same trip.
With a very large variety of fish in this area, this boat will allow you to fish the shallow grass flats for Trout and Redfish or move to the docks and Mangroves for Snook.
A family friendly fishing charter
Bring the family along for a fun filled day of fishing. Saltwater fishing is fun and it is very easy for everyone to learn and to catch fish.
Most kids love fishing in saltwater because there's usually a lot of action, so they don't get bored with the trip. Please let me know in advance if you're bringing very small anglers, so I can come prepared with smaller and lighter-weight rods for them. Their fishing experience will be much more enjoyable with fishing gear that matches their size.
Whether you are an experienced fisherman or have never fished in saltwater before and would like some instructions, I can put together a great trip for you.
There are a lot of fish in our waters and normally something is always biting. It is all about having fun, catching fish, and enjoying a great day on the water in beautiful Sarasota, Florida.
Whether you need to book a charter, plan your own fishing trip or just need some local information, I invite you to look through my site and feel free to contact me.

Why we go fishing?
Experienced sport fishermen and beginning anglers all go fishing for the same reasons – for the fun of fishing and to enjoy a nice day on or around the water. My charter is perfect for anyone who wants to go fishing no matter how much experience you have or even if you have never fished before. If you live right here in the Sarasota area or you are visiting from somewhere else like Michigan, Minnesota, New Jersey or Wisconsin, contact me for a fun day of fishing!
When fishing, we always hope for "the big one"; the exciting thing about every fishing trip is that you never know when it's going to come. When I am fishing, I like to think that every time I cast my line into the water it could be the biggest fish of my life!
One day you could fill the cooler and the next day could be a little slow.
Capt. Tony Blizzard
Outdoor News Article - October 27, 2017
Autumn open-water destination: A productive day on Florida's Sarasota Bay
Someone asked me what my favorite time of year was to fish the bays of Florida. The answer to that is easy.  Anytime.
It doesn't take a lot of convincing to get me to hop a plane that is heading to Tampa just so I can grab a guide with a flats boat and chase specks, snapper, reds and pompano, and I even like to hook ladyfish because they are such acrobats.
I've been visiting Florida for years and have fished up and down the Gulf Coast, but I had never spent any time on Sarasota Bay – until now. 
The group enjoyed the spoils of their efforts at Walt's Fish Market in Sarasota.
Captain Tony Blizzard has been guiding Sarasota Bay for more than 12 years. He set us up, showed us the program and then turned us loose. The "us" on this trip were myself, Ron Durkin and Stan and Chris Rud. Friends from the Twin Cities, this was also their first time fishing on Sarasota Bay.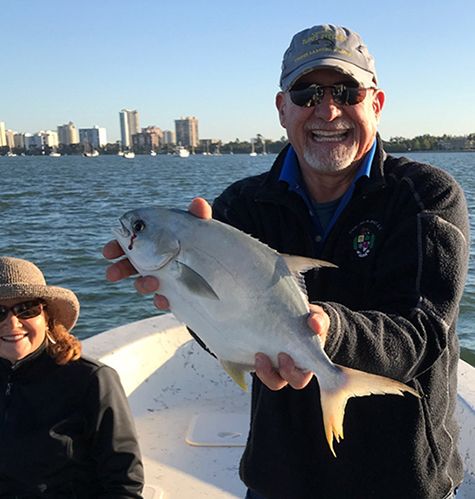 Our first stop was a grass bed and the fish immediately began chewing at the live shrimp we were using for bait. It wasn't long before I hooked into a respectable pompano. We were on our way to a great fish dinner when the bite quit on the spot we were fishing. It was off to the next location, and that was our pattern the rest of the trip – hit a spot, catch some fish, bite cools off, move to the next spot.
Like any body of water that has size restrictions, it always seems like the majority of the fish you catch are in the protected range and they have to go back. We caught and released a load of fish. But, we also got to drop a few in the cooler. There were some snapper, a real nice flounder and that pompano. Plenty for a fish fry.
The fish fry took place at a fish market in Sarasota. We just took in our fillets, and they cooked them to our specifications. The perfect ending to a perfect day.
Of the guides I've fished with over the years I can only count on one hand those I have highly recommended. Now I'm going to have to start on the other hand – I highly recommend Captain Tony Blizzard.